When I think bleached hair I imagine punks on St.Marks with rainbow mohawks, Youthquake icon Edie Sedgwick, 90's riot girls with fists in the air and hot damn Debbie Harry!… To me it's what Tomahawk and Bushwick is all about, it's not LUXURY (argh I wanna puke when I hear Bushwick and luxury) it's gritty, it has teeth, it's a f*cking punch in the face! So here is to our filthy, gorgeous clients rockin' bleached hair. KEEP IT SLEEZY BUSHWICK! See ya in the gutter…
Kristin took this new mom to an all over purple hue, office job be damned she got trashy at Tomahawk and she liked it!
This next client decided to get down and dirty with our Alabama slammer Ms Donna Rae, she's a true southern filthy b*tch but damn she can do good hair.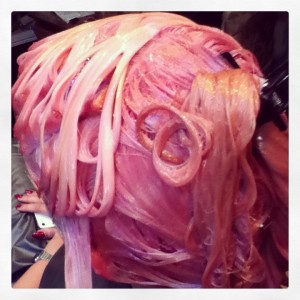 And finally this dapper dan decided to get a little gritty with Donna with his bleached pompadour/mullet our new favorite hybrid.
Oh yeah we totally forgot that we filmed this for NY1. Check out Chantal adding a colorful clip in to Jess of all Trades.