Single Process Root (1 in regrowth)/All Over or over 1in regrowth
$100-160/160-190
Double Process Root (1 inch regrowth)And Refresh Blonde/Pull Thru (shampoo cap), Virgin Double Process (all over bleach and tone blonde roots longer than 2 inches) add additional $40 and up
$200/225 $300 & up
Color Consult (required for double process, hi lights and balayage)
Free
Above the Ears/Short Styles
$100-160
dbl process
$190-300
All Over Glaze
$100 & up
Accent Hi-lites or Panel (10 Foils & Under)/Partial Balayage
$200+
Half Head Foil/Teasylite/Balayage
$250+
Full Head Foil/Teasylite/Balayage
$300+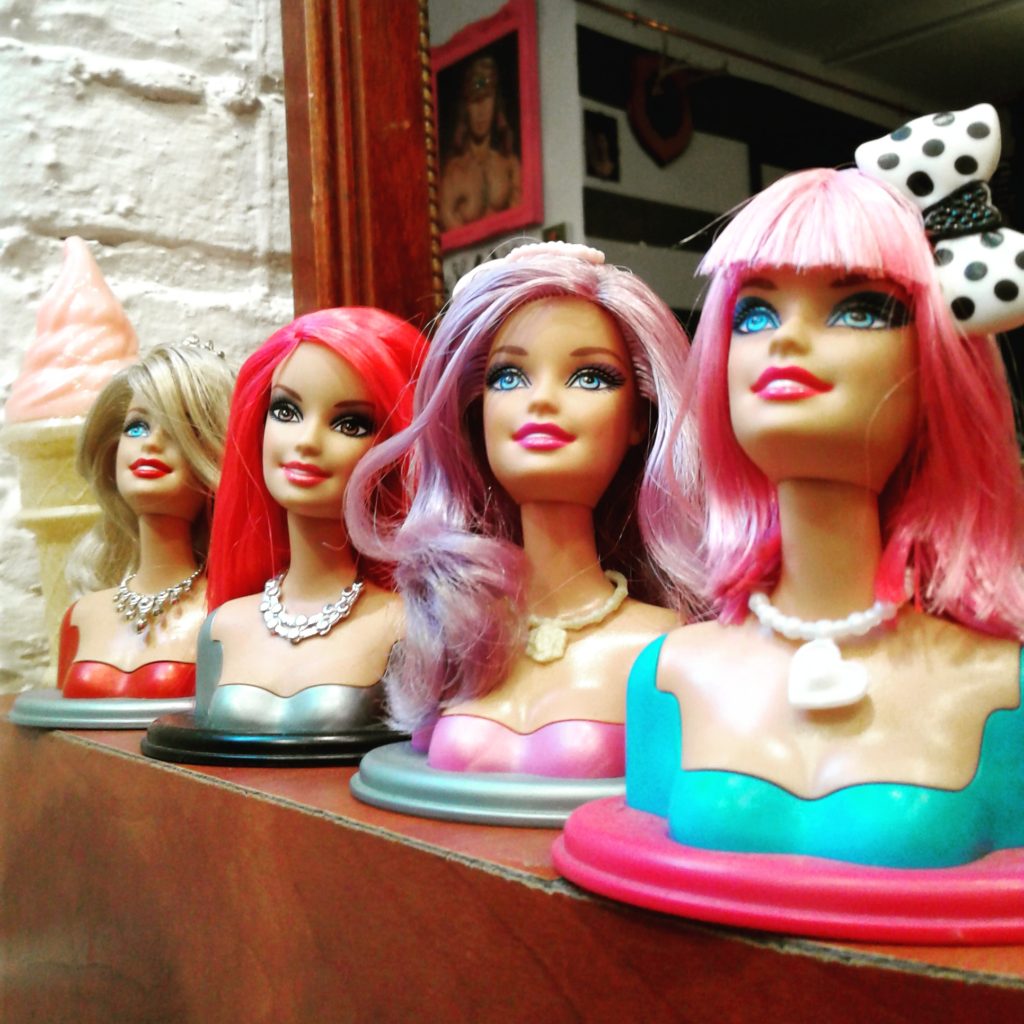 Bleach and Tone/ Double Process this is our most popular service. It's  is how we achieve blondes and creative color. The double process begins with lightener being applied to the full head (scalp to tip), followed by a toner or creative color. Iconic faces of a double process/platinum blonde would be Marilyn Monroe, Debbie Harry, Gwen Stefani… To maintain an even color in a double process root touchup is recommended at 6-9 weeks about 1 inch of growth. If you wait too long on your root retouch and roots are past 2 inches we will need to do a virgin double process. For those who are unable to maintain upkeep we recommend balayage/hand painted hi lights.
Highlights/Balayage is another way to go blonde or lighter it is also a 2 step process where we bleach hair either using foils or hand painting. This technique has a multi-dimensional look and feel. Balayage allows for a darker root and a more natural sunkissed blonde. Ladies that rock balayage would be Gigi Hadid and  Gisele Bundchen. There is more of a grow out stage with this than a double process or foil, root touchup is 2-4months or longer. For dramatic looks we recommend darkening the root with a toner for a high contrast a la Khloe Kardashian. Foil highlights allows us to get close to the hair root and offers lighter effect than balayage since the foil conducts heat. Foil highlight celebrities would be Carrie Underwood and Jennifer Aniston. Foil is great for people that want to go light from root to tip, balayage is great for a more natural effect allowing for a built in root. Sometimes both processes are used or in conjunction with lowlights or shadowed roots.
Keep in mind lightener can only lift up to 7 shades. If you have dark hair and want to go light this can take several trips to the salon especially with balayage which is a gentler way of lightening. We do not do triple processes where the hair is processed multiple times in a day. This can be damaging to the integrity of the hair and scalp, also very hard on the wallet. We rather take it in steps and separate sessions allowing the strands to heal. More info below including tips and Olaplex.
Ombre hair color is generally darker roots through the mid-shaft then gradually gets lighter from mid-shaft to the ends. Upkeep is minimal and is a perfect service for someone that does not have the time to maintain color.
Permanent Color is great for gray and full coverage it can lighten about 2 levels the downside is roots or line of demarcation, root touchup is recommended every 4-8 weeks. When you use permanent color it will remain in your hair until your hair grows out or it's cut. The color fades but the hair has been permanently altered. If you are a person that likes to change color or thinks they will want to go lighter in the future you should do a Glaze or Demi-Permanent color.
Glaze/Demi-Permanent/Toner is used to enhance, refresh or darken hair color and blend in grays, it does not lighten. Glazes can last up to 6 weeks and slowly fade off. Glazes are fragile we do not recommend washing hair for 24 hours. Use only sulfate free shampoos and alternate washing with conditioning cleansers to help maintain color.
Creative Colors are semi permanent vegetable dyes. We like to go a little brighter with these colors to allow for fading. We use Pravana, Color Design, Pulp Riot and Kenra these are direct dyes and made to fade every time you shampoo. Keep in mind pastel colors only last several shampoos. Creative or custom colors can be added to any of our bleach services including double process, ombre and balayage. Please be advised creative colors adds an extra step and is an additional $50-90. To maintain creative colors, especially pastels you will need to do at home upkeep by either using color depositing shampoo, conditioners or direct dyes like Manic Panic or Lime Crime. We now offer Viral Bold Tones a take home shampoo and conditioner that maintains and deposits creative color. See below for care, tips and double process recommendations also visit our blog for more info.
Corrective Color if you have used Henna, OverTone, Splat, box color or permanent color and wish to go lighter or requires multiple processes we consider this corrective color. This is when we may have to use color remover or do the lightening in multiple stages or use multiple processes to fill hair when going darker. Color correction is $125 per hour. Color correction also includes treatments like Olaplex or K18. A note on Henna, OverTone and many natural hair dyes, they are made of metallic salts and do not play well with lightener. We always recommend using glazes or demi permanent color instead. Be patient when it comes to lightening hair, it can be a process but in the end you'll have that hair of your dreams. Remember LIFE'S A BLEACH AND THEN YOU DYE!
Color can be tricky and to achieve the best results Tomahawk recommends bringing in pics (be aware many of the images online are photoshop and digitally filtered) we have loads of magazines for you to check out prior or during consult. If you have questions on pricing it is best to ask prior to service. For all lightening services we like to do an in person consult. Consults are free and helps us to get on the same page as our clients and allows us to book out the proper amount of time and price that will be required to make your hair dreams come true. To book a color consult you can call or text at 646-399-6873.* Transparency in our pricing is vital to us. It is important to note that the cost of our color services is based on how much product is used, our effort, knowledge and time. Many of our color services take 2 1/2 to over 4 hours to achieve the desired results.
Tomahawk uses professional products by Redken, Pravana, Kenra, Color Design, Pulp Riot,Viral Bold Tones and Olaplex we also custom mix colors to achieve unique shades.
We allow 7 days for any corrections or tweaks for our cut and color services, must be seen by the same stylist. After 7 days there are many factors that are out our control like harsh products, over washing hair, stripping face wash, minerals in water, sun and hot tools damage, swimming in chlorine/salt water and natural growth of hair. Please see below for tips and care for color treated hair.
So you just spent some hard earned dough and time in the chair here are a few tips on keeping that color popping!
1. All color is super fragile when you first have it done. We recommend that you do not wash hair for 24-48 hours after a color service. Only use color safe products. Harsh sudsy shampoo will kill your color look for sulfate free or conditioning cleansers/ non lathering. Tomahawk carries Redken Sulfate Free line Blonde Idol, Color Magnetics, low lather Curvaceous cream shampoo, Extreme Anti-Snap (protein), Sexy Hair Sulfate Free violet shampoo and Biolage or Redken Cleansing Conditioner. Also be extra careful of face washes they tend to pull color out along the hairline. ***Please be aware that salt water and chlorine are very hard on color and should be avoided before and after a color service. If you are coming in for color after being at the beach or pool it can cause a chemical reaction with lighteners causing hair to go brittle or break. If you have been to the beach (even if you did not get hair wet salt is still in the air and attaches to hair) or pool we ask that you wash your hair thoroughly to remove the salt or chlorine prior to color service. If you plan on going to the beach or pool after your service the color can be stripped right out and we recommend you come in after your vacation or be prepared for the color to fade fast. There is no way for us to guarantee color under these circumstances the best thing to do is be transparent with your routines and activities we will do our best to advise.
2. Double process or highlighted hair keep brassy strands at bay. Use a purple based shampoo or treatment such as Redken's Blonde Idol Custom Tone conditioner, Sexy Hair Sulfate Free Shampoo or Clairol Shimmer lights (use shampoo only) once a week. Creative color and glazes are semi permanent and made to fade. We always recommend going darker than what you want, giving you more time with the color. Pastels may only last 2 shampoos use Viral Bold Tones shampoo to maintain color at home. To retain color we advise washing hair less frequently and using conditioning cleansers.  Remember visit the salon for regular touch ups.
3. The health of your hair is up to you. Make sure hair is fully wet before shampooing and wash with lukewarm or cool water. Avoid washing strands daily, active lifestyles try using dry shampoo or conditioning cleansers. We see a lot of damage from ponytail holders make sure to use a non tearing one or yes a scrunchie. Switch to a satin pillowcase, cotton pulls and tugs, satin causes less friction on hair and skin. We also love to use coconut or argon oil at the ends of stressed strands!
Life's a Bleach and Then You Dye Tomahawks Guide To the Double Process:    
Be realistic with your hair aspirations. Going blonde is maintenance. It takes time, money and upkeep. We live in a culture of celebrities and social media. We don't get to see the effort in getting Beyonce or Rita Ora blonde, or the hours it takes for Katy Perry to go from blue to purple. It's a world of photoshop and digitally filtered images and, of course, fake hair- wigs, falls and extensions. With that said, hair is what we love to do to do, we live for bleach. Below is what to expect when coming in – so let's get to it!
1. 24-48 hours stop washing your hair. The natural oils produced from your scalp will help reduce irritation from the bleach. That's right, we like it dirty! Psst… if you have allergies or scalp sensitivities we advise taking Benadryl or an antihistamine.
2. Be prepared you may need to lose some length. Bleach is a chemical, it's definitely come along way, but it is still damaging. If you have old color at the ends of your strands it can give an uneven look to your double process.
3. Once lightener is applied to the entire head you will most likely have a unique shade of yellow or orange, only natural blondes go to a light or white color. Not going to lie, it's a bit scary but here's where the magic comes in with Toner or Creative Color, which is the second step in a double process. This is where we blend away all the brassy (yellow and orange) undertones using the color wheel. This is our favorite part, it's absolute artistry and it's where the hair takes shape into platinum, golden, natural blondes or vibrant custom mixed hues of purple, pink, blues.* It is very important to note that if you have dark or colored hair it can take several or more visits to the salon to achieve super light blondes or pastels. We do not do triple processes (2 bleach treatments in 1 day), which can cause chemical burns, breakage and are very costly. We prefer to take it in stages, usually allowing several weeks for the scalp and hair to recover. We advise the Olaplex treatment and at home protein packs if you are looking to go from dark to light quickly.
4. Root Touchup is recommended after 6-9weeks – that's about 1 inch of growth. Bleach is all about the chemistry and relies on body heat produced from the scalp. If you wait too long, what will happen is color banding – in which you'll see a halo of brassy color. The bleach will have to be pulled through it may add extra damage to strands or an uneven look to the color and is an additional fee. If you are unable to come to the salon every 6-9 weeks we advise balayage hi lights. Balayage is hand painted hi lights allowing for darker roots and a more natural, sun kissed blonde. Root touchup for balayage is every 2-4 months or longer. The image below is a balayage.
We now offer Olaplex a 2 step in salon service and take home treatment. Olaplex allows us to push hair farther and GO BLONDER! It multiplies bonds and cross-links broken bonds that help restore the strength, structure and integrity of the hair. 1st step is applied into bleach, color or glaze which is the bond multiplier. 2nd step is a conditioning treatment that is the bond perfector which helps dramatically reduce breakage. This service is an additional cost of $40 and up depending on how much product is used. We also sell the take home weekly treatment for $28. We are super stoked to offer this service!
5. Check out more hair care tips above and visit our home/blog page for pics and more info Not sure what blonde is best for you check out Vogues 70 shades of blonde.
Like us on Facebook and follow us done the rabbit hole of Instagram #tomahawksalon!