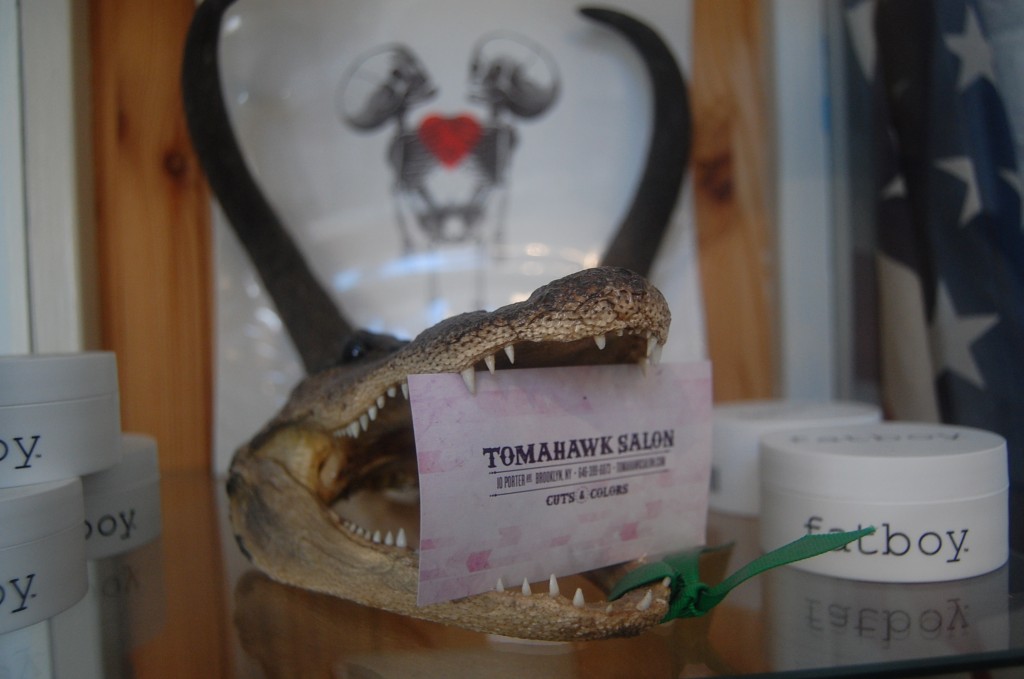 Tomahawk Salon "not your mother's salon". A badass vibe of metal and oddities housed in a former motorcycle shop in the heart of Bushwick, Brooklyn. A full service hair salon for both Ladies and Gents, we offer killer cuts and banging vivid colors!
Tomahawk is conveniently located at 17 Thames between Bogart St and Morgan Ave just off the Morgan L stop. Please be advised all services will always be CASH ONLY!
Tomahawk is home to three fabulous gals: Kristin "dimples" Jackson celebrity Senior Stylist/Colorist, Ms. Donna "Rae Rae" Williams Senior Stylist/Colorist/Barber and keeper of the crypt Ms. Chantal Savaresse. Take a peek at our Bios page to learn more about our stylists!
Kristin Jackson was featured on Hair Battle Spectacular Season 2 on Oxygen and created all the fantasy hair creations/wigs for Katy Perry's "California Girls", including the iconic heart hair band! 
We are a small salon and treat it like a mom and pop shop of bygone years. We run by appointments so if you're late or cancel at the last minute it can throw off the entire day and make us late for our other clients. If you're running behind give us a heads up, 5-10 minutes is usually fine, any later than that we might have to shorten or reschedule your appointment.
Tomahawk likes to keep our clients looking the very best version of themselves while also meeting the needs of our growing community. The best way is to call ahead book an appointment at 646-399-6873 or text please leave your name and number and we will get back to you. Please be advised we sometimes have to shut the salon down be it a special event or god forbid sick days we do our best to notify via Facebook. Color appointments fill super fast to make sure you get your desired appointment consider pre-booking our nights and weekends usually book 1-2 weeks in advance!
Check out our blog and press page to see our work in the pages of Nylon, Allure, Teen Vogue, Rebel Ink, Skin&Ink, Time Out and MTV. For the latest updates click on the Facebook link and like our page for all things Tomahawk Salon.
Check out Mega Star Iggy Azalea getting her nails did by Fleury Rose at Tomahawk for MTV Style! Remember we moved to 17 Thames between Bogart St and Morgan Ave.